It's hard to describe the Kentucky Derby to someone who's not from Kentucky. You could spend an afternoon telling an out-of-towner how a two-minute horse race is connected to a week's worth of amazing community events across the state, but honestly, words don't do the Kentucky Derby Festival justice. Take the Great Steamboat Race, for example. Most people outside of Kentucky don't understand why in the world people get so worked up about two riverboats chugging along the Ohio River. They're just boats, right? Wrong. Riverboats have a kind of magic about them, especially around Derby time. But in order to get it, you just need to be there.
As a senior living company based in Louisville, Kentucky, we get the hype, and we wanted to share it with seniors who have never experienced the excitement of Derby season. So we partnered with the Kentucky Derby festival to arrange a special Derby event for over 100 of our residents and staff members; the first ever Great Steamboat Trial Race. This event was part of our Live a Dream program, which is designed to fulfill the lifelong dreams of residents living in our 100+ communities throughout the Midwest. The Great Steamboat Race Trial is the first ever 'Group Dream' with more to follow!
On Monday, April 30th, buses from eleven of our Trilogy Senior Living Communities pulled up to the river's edge and unloaded a group of curious, excited seniors. They were greeted by the Belle of Louisville, all 157.5 feet of her, belching steam into the perfect blue sky. Waiting for them onboard was a live band, a gorgeous view, and enough food to keep them fueled up for a day's worth of adventures. For resident Phyllis, it was the perfect birthday celebration. As she leaned against the Belle's second-story railing and looked out over the water, she laughed.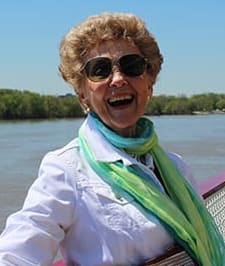 "88 ain't so bad," Phyllis said. "Yesterday I went to the track at Keeneland, today I'm on the Belle of Louisville. And it's all thanks to the wonderful people who help care for me."
Phyllis wasn't the only guest in great spirits as the Belle worked its way upriver. Other residents socialized inside, some wearing homemade Derby hats, others sporting pirate bandanas and eye patches. When the music started, many hurried to the dance floor and moved to their favorite oldies tunes. And when the ship docked after its hour tour, they debarked. Not to go home, though, but on to their next event – a tour of the Kentucky Derby Museum!
The rest of the afternoon was spent soaking up the sun at Churchill Downs and learning about the history of the 'most exciting two minutes in sports'. During their tour, residents were also treated to a view of the track usually reserved for the rich and famous. In a few days, their seats would be full of bystanders in outrageous hats, heels, and suits. But for now, the entire place was theirs. It was truly a dream come true.
We would like to thank everyone who helped organize this once-in-a-lifetime event, including the Trilogy Life Enrichment team members who provided assistance throughout the day. Make sure to subscribe to Living With a Purpose to find out about our next Live a Dream trip, and visit our website to learn more about how we enrich the lives of our residents. 
Click here to see some of the highlights of our Derby adventure!