When 89-year-old Ruth Blair wanted to go skydiving, it raised a few eyebrows. Legally blind, but excited to try something new, Ruth wished to have her chance in the sky, and the staff at Blair Ridge Health Campus (a Trilogy Health Services campus in Peru, Indiana) was ready to make it happen.
With the help of the campus, family and Air Indiana Skydiving Center, Ruth and her nephew harnessed up to take the dive. Following the careful direction of her tandem instructor, Ruth had a thrilling time as she jumped from the plane and parachuted over the Indiana countryside. Family, friends, and even the local newspaper, stood by with their cameras, making sure to document this wonderful dream in action.
See the full article complete with video and photos by the Kokomo Tribune!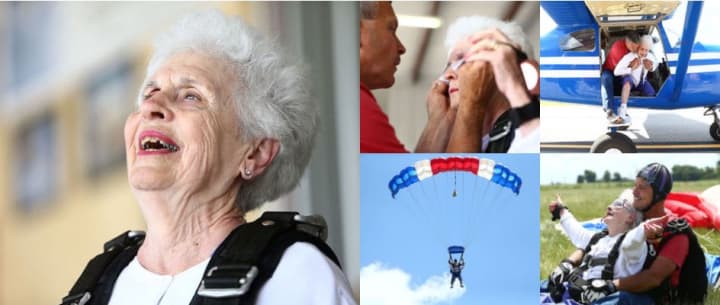 Are you interested in experiencing this kind of care and support firsthand, either for yourself or a loved one? Contact a Trilogy campus near you!
Want to work for a company that truly cares for the people we serve? Visit our Trilogy careers website!
Photos Courtesy of Kelly Lafferty Gerber of the Kokomo Tribune.