When you decide to live at a Trilogy campus, we make a promise to you - that it's never too late to go on a new adventure, and there's no adventure too great. That's why, thanks to our Live a Dream program, we have residents who have met their favorite bands backstage. They've touched the clouds in a hot air balloon, and they've fallen through them as a skydiver. For Margaret, a resident of Clearvista Lake Health Campus, her dream was simple - to go zip lining. However, when you're 100 years old, that's easier said than done.
"The Physical Therapists helped me strengthen my legs to prepare," Margaret told WWTV. "They had some steps that I practiced going up and down so I could be able to handle the steps."
When the time came for Margaret to gear up, she was surprised to see that she wouldn't just be going on one zip line - she would be going through the entire eight-line course. But as anyone who knows Margaret will tell you, this was never going to be enough to stop her. 
"Continue living," she told WWTV. "Continue pushing. Continue the life that you have, because you only get one."
And continue she did. 

As her feet brushed the ground during her final descent, Margaret's face lit up.
"It was a day of joy, excitement and accomplishment that I thought I would not have," she said. "It reminded me that I must keep doing what I can as long as God leads me."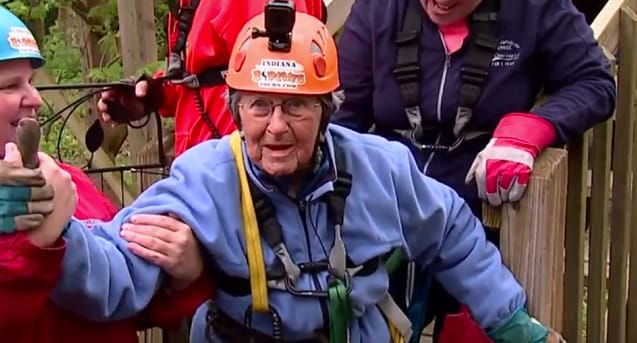 After 100 years of experiences, it was our pleasure to provide Margaret with a new one. Click here to learn more about our Live a Dream program and how we enrich the lives of others.