Randy Bufford Named a Top 100 CEO on Glassdoor!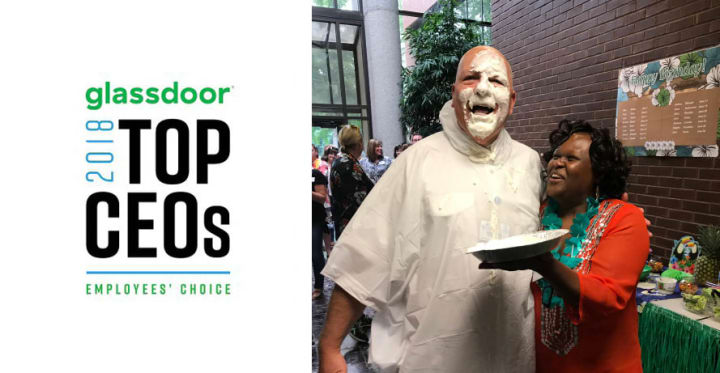 He grills, he washes cars, he volunteers to get dunked, and he's even willing to take a pie in the face to show how much he (and Trilogy as a company) cares for our employees and customers!
Get to Know Randall J. Bufford: President/CEO
Randy Bufford has over 30 years of experience in the healthcare industry, mainly in healthcare and hospitality services for the elderly. Randy is President/CEO/Founder of Trilogy Health Services, LLC, (which just celebrated its 20-year anniversary) and has a proven track record of growing values-based organizations that achieve peer best results for customers, employees and investors. His emphasis on a servant leadership culture is the cornerstone of the Trilogy culture. Randy is a proud graduate of the University of Louisville where he obtained a Bachelor of Science degree in Commerce/Accounting. He also served as head manager of UofL's 1980 national championship winning men's basketball team.
Leigh Ann Barney is One of Louisville Business First's "20 People to Know in Aging Care"!
She's one cool leader who really knows the biz! Read the interview our EVP-COO had with Louisville Business First!

Get to Know Leigh Ann Barney – Executive Vice President/Chief Operating Officer
Leigh Ann Barney is Trilogy's Executive Vice President and Chief Operating Officer. She has been in the long-term health care profession for over 20 years. During her 17-year tenure with Trilogy, Leigh Ann has held numerous positions including Treasurer, as well as overseeing all ancillary service operations, before moving into her current position. Ms. Barney holds a B.S. and MBA degree from the University of Louisville.