Our best and brightest chefs recently came together at Lucas Oil Stadium in Indianapolis, Indiana for the 11th annual Culinary Olympics! 10 contestants each fought for the gold and glory of their campus the best way they knew how: serving up a delicious, mouth-watering dish.
Throughout the day, contestants arrived in 15 minute intervals ready to put their dietary skills to the test. Each team was presented with a mystery box of – you guessed it – mystery ingredients that they would use to create a meal fit for our residents. They were also allowed to pull from a common pantry and combine those ingredients with those found in the mystery box. Once the competition was underway, each team had one hour to create an entrée plate and 4 samples for the judges.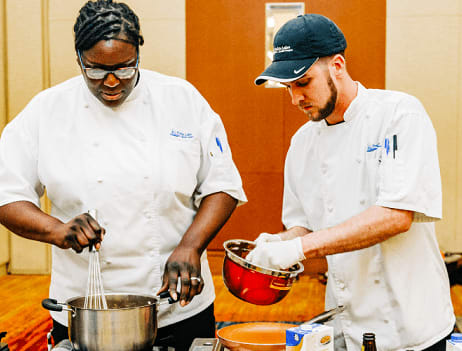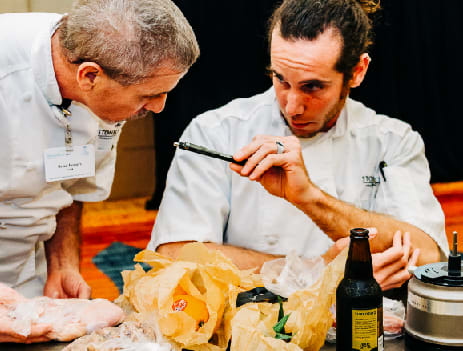 Kicking off the event was our President and CEO Randy Bufford, who was there to support our campus teams and breathe in the delectable scents of quality food.
"We're excited to show the world what we do three times a day plus more in our health campuses – provide the very best in taste, quality, and nutrition with one-of-a-kind services," he commented. "I can't wait for everyone to see our chefs doing what they do best!"
Despite being fully decked out in his referee outfit, Randy was not a judge in the competition – that honor was bestowed upon Tom Alaimo, VP of Life Enrichment & Memory Care at Trilogy Health Services, Bryan Vaughn (GFS) Steve Oakley (Oakley's Bistro), Michael Leach (JW Marriott Indianapolis Executive Sous Chef), and Rachel Solano (JW Marriott Indianapolis Executive Chef Banquets). These five individuals were tasked with judging each dish based on taste, creativity, difficulty, presentation, and use of ingredients.
Taking home the gold was Grace Minnich and Jessica DeGiulio of Paddock Springs Health Campus in Warsaw, Indiana. The judges were won over by their scrumptious andouille sausage and yukon gold potato hash, creamy southern corn with red peppers and shallots, and marinated chicken thigh. The dynamic duo was recognized for their achievement that evening at the Awards Dinner, as were our Silver and Bronze Winners: George Pavopoulos and Bryan Lowery of Stonecroft Health Campus in Bloomington, Indiana, and Cherry Moran and Max Hovious of Prairie Lakes Health Campusin Noblesville, Indiana.
Even without the promise of recognition, you'll find that our chefs are always committed to providing those they serve with the very best that dining services has to offer. Join us at any of our locations to satisfy your craving for a top-quality meal – served by top-quality people.
Congratulations to our winners, and congratulations to all of our participants in this year's Culinary Olympics!