Welcome to "The Strength of Our SHIELD"! In this four-part series, we'll be exploring the technologies and partnerships behind our latest cleanliness initiative, the Trilogy SHIELD Program, and how it continues to pave the way towards senior living's next chapter. 
When it comes to getting back to doing the things that we love, our first priority will always be keeping Trilogy family members safe. That's why, in accordance with phase 1A of the COVID-19 vaccine rollout, all Trilogy residents and employees have now been offered a SARS-CoV-2 vaccine. These vaccines have been clinically proven to prevent moderate to severe disease, and have been deemed safe by scientists and health organizations across the globe.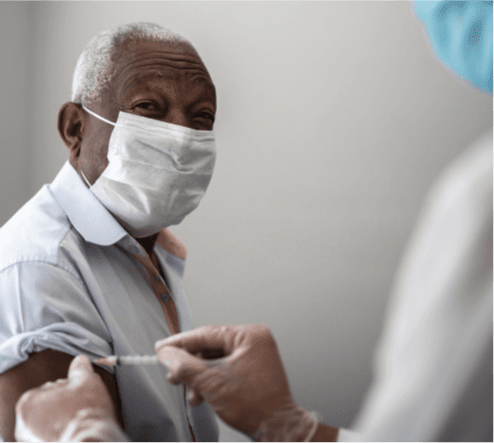 As a healthcare company, we require that all employees receive a COVID-19 vaccine as a condition of employment.
Additionally, we're proud to provide each of our healthcare heroes with access to Personal Protective Equipment (PPE) whenever it is needed; whether it be masks, gowns, gloves, or face shields. 
The coronavirus pandemic has proven beyond a doubt that we must take all necessary precautions in protecting the most vulnerable members of our population. In doing so, we not only help our employees live healthy, happy lives, we decrease our residents' risk of contracting diseases that are especially dangerous to seniors and those with preexisting conditions.
To learn more about the Trilogy SHIELD Program, please click here.