Our "Party in the USA" Theme Year continues, and this time, it took us to the Entertainment Capital of the World! From Lima to Logansport, our campuses came together to celebrate a night of glitz, glamour, and games with our latest Theme Dinner: Las Vegas Casino Night! Whether they were dancing with Elvis or enjoying a drink with staff, our community members laughed, danced, and sang the night away - and we couldn't feel luckier to have been a part of it.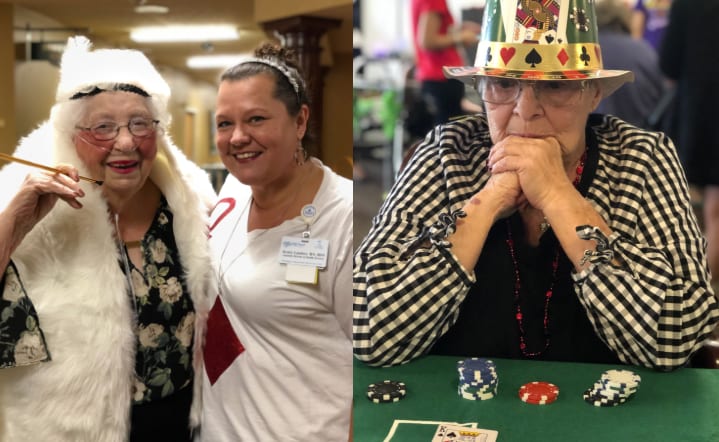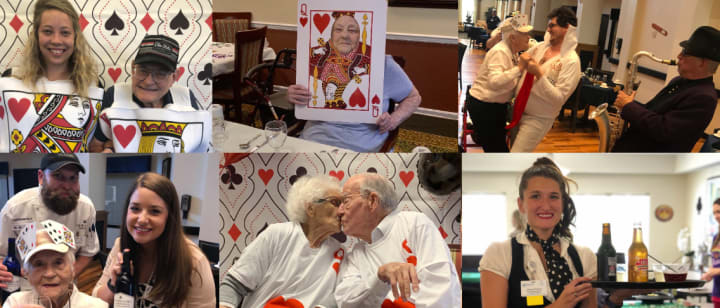 Once the festivities kicked off, they never slowed down. While our residents were busy at the roulette table, our Dining Teams were hard at work preparing the Mandalay Bay Shrimp Cocktail, Las Vegas Strip Steak and Chicken Bellagio, and a delicious dessert to top it all off: Black Jack Baked Alaska. This delectable chocolate sheet cake topped with French Vanilla Ice cream meant that all bets were off when it came time for the last course.

Thank you to our Life Enrichment and Dining Teams for putting together an unforgettable evening for our residents. To see more of the Theme Dinner festivities, be sure to search for the hashtags #TrilogyDoesVegas and #TrilogyCasinoNight on Twitter, where all of our campuses have been sharing the best photos, stories, and winnings of the evening!